Renewable Energy
Project Description
NCORPE's Board of Directors has voted to move forward with a study on the feasibility for a wind/solar development on the nearly 20,000 acres of NCORPE property in Lincoln County. The land consists of range land and irrigated crop land with current agriculture use leases on some of them. NCORPE is considering allowing the property to be additionally leased for the development, construction and operation of a wind/solar generation facility by a third party. Existing land uses shall generally remain the same albeit with the addition of wind/solar generation on site.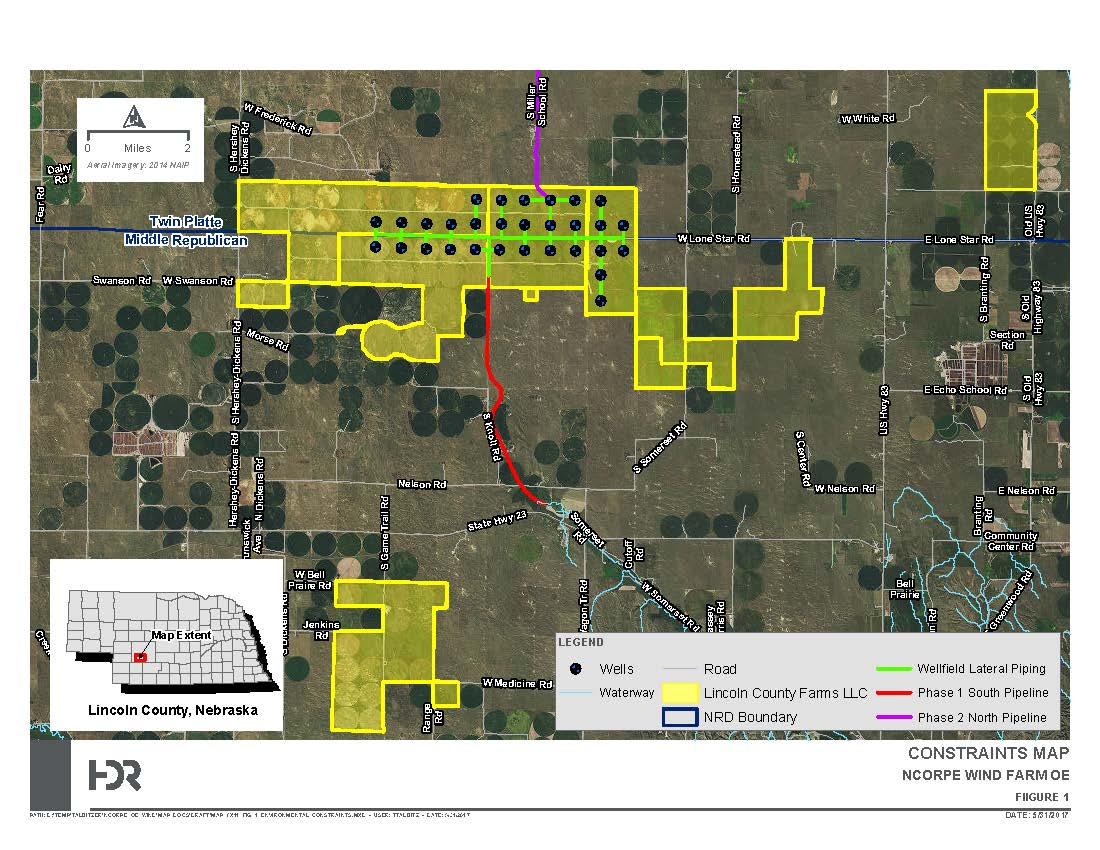 Wind/Solar Development Project Purpose
An NCORPE wind and/or solar project would increase tax revenue in the county and help school districts.
Project Process

Frequently Asked Questions
What is NCORPE?
NCORPE, the Nebraska Cooperative Republican Platte Enhancement Project, is an interlocal agency that was formed in fall 2012 by four Natural Resources Districts (NRDs) (Upper Republican NRD, Middle Republican NRD, Lower Republican NRD, Twin Platte NRD) to increase stream flows in the Republican and Platte Rivers. The agency has purchased irrigated land in Lincoln County, Nebraska and retired it from irrigation so that water can be transported via pipelines and tributaries to the Republican and Platte Rivers. NCORPE guarantees that river flow obligations are met in the Republican and Platte Rivers. Not meeting those obligations, such as the Republican River Compact, would cause severe financial and regulatory penalties along with the permanent shutdown of over 300,000 irrigated acres. In addition to assurances NCORPE provides that interstate and intrastate river flow obligations are met, the project meets these obligations in a way that protects the economy.
Is there a wind energy project planned for NCORPE property?
NCORPE is considering the development of a wind/solar project on NCORPE property.
Does NCORPE currently own any wind turbines?
No, NCORPE does not currently own any wind turbines. There has been some discussion about entertaining offers from wind developers to build on NCORPE property. There is no established timeline for this, but NCORPE would be interested in beginning this process if there is interest by developers.
Why is NCORPE considering a wind energy project?
An NCORPE wind and/or solar project would increase tax revenue in the county and help school districts.

Will Prairie Chickens be negatively impacted if a wind farm is built in this area?
Like with many man-made structures, birds can occasionally strike wind turbines. Though the occurrence of bird strikes for carefully sited wind turbines is quite low, sufficient care and precaution should be taken to minimize those occurrences. Best practices call for an examination of bird species in the area and the flight patterns of those species, including migration. Using that information, wind turbines can be sited away from the most sensitive and high-traffic areas to avoid possible collisions (Source: AWEA).
A study from Kansas State University found that wind energy developments have little effect on greater prairie chickens. The study also reported that female survival rates of the prairie chicken increased after wind turbines were installed.
Why are Natural Resources Districts getting into a private enterprise project?
While it is not typical of NRDs to invest in private enterprise projects, there is an opportunity for NCORPE to use existing property to generate profits that will help fund NCORPE projects.